Viscometer Cleaning and Drying Apparatus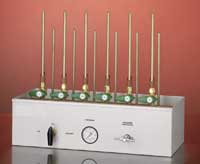 Six tube capacity
For all types of capillary viscometers

Cleans and dries glass capillary viscometers using solvent and pressurized filtered air. Use for all types of kinematic viscometers. Cleans as many as six tubes at a time. Place tubes on solvent/air jets and open the valve for each jet. Turn selector dial to 'solvent' to rinse tubes, and then to 'air' to evaporate any remaining solvent. Use adjustable drainage rack to drain excess sample oil from tubes prior to cleaning. Drainage trough connects to a suitable waste container or chemical drain for removal of waste oil and solvent. Built-in air filter removes particles from the air stream.
Available solvent tank has tubing with fittings for connection to apparatus. Requires pressurized air source (150psi maximum).