Turbidimeter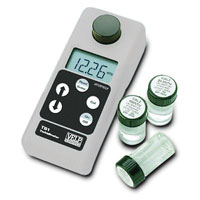 Turbidity is one of the most commonly used parameters for determining the quality of water. The turbidity value is an important factor in various fields of application such as drinking water, disinfection processes, industrial processes and water treatment plants.

The portable turbidimeter measures the turbidity of aqueous samples simply and accurately results are given directly in Nephelometric Turbidity Units (NTU). High quality, intuitive and simple to calibrate, this unit offers premium results in a matter of seconds.
It is supplied with 4 calibration standards (800, 100, 20 and 0.02 NTU), NIST traceable, 3 vials, cloth, silicone oil, batteries and carrying case.