Core Drilling Machines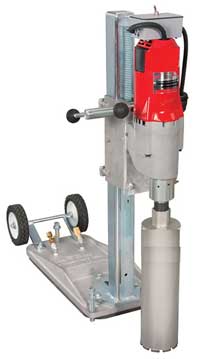 Gasoline or electric-powered core drilling machines offer easy set up, fast drilling, and low bit wear to give low cost per core. The drills have bit capacities up to 8in (203mm) diameter. Inquire for larger, trailer-mounted rigs for bits up to 16in (406mm). Quick disconnect fittings for water supply are provided. Diamond coring bits are ordered separately.

Gasoline-Powered Core Drill is designed for vertical coring of pavements and slabs. Stable platform with leveling screws, a heavy-duty column and smooth, precision-feed system combine to make this model the ideal choice for large projects. Gasoline-powered drill allows the operator to operate independently of power supplies, and have minimal set up time and faster drilling. The unit easily adapts to mount to a pickup truck and has a 6.5hp four-cycle manual start engine. Carriage travel is 24in (610mm).

Electric Core Drill adapts to a wide range of drilling jobs in addition to pavement coring. The column rotates 180° horizontally, allowing precise placement of drill bit. The super-duty two-speed (450/900rpm) 3.5hp motor and carriage can be removed or reattached without changing location for ease in snapping cores and adding extension rods. The 10in (254mm) wide wheeled base has a vacuum anchor to solidly grip smooth pavement or floors. Unit includes oilless vacuum pump, filter, hose, and quick connections.