Rebar Locator Device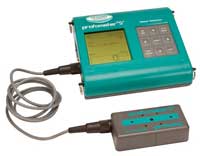 For determining the presence, position, direction, depth and diameter of steel reinforcement bars in concrete structures.

PROFOMETER 5+ REBAR LOCATOR
The lightest instrument in its class, which for the first time displays reinforcing bars and concrete covers on a LCD monitor with an X/Y metre scale, even with close rebar interspacing.
An user-guiding menu technique and just 9 keys for all function ensure the simplest possible operation.
The easily readable display shows up to 240 concrete covers in grey shades.
Measure bar diameter to an accuracy of ± 1 mm. Additional detailed technical informations available on request.