Los Angeles Abrasion Machine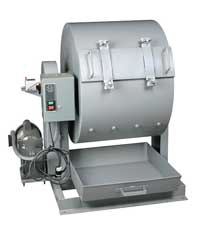 The Los Angeles Abrasion Machine supports the following standards: ASTM C131, ASTM C535, AASHTO T96.

Tests for resistance to abrasion in crushed rock, slag, crushed and uncrushed gravel, using Los Angeles testing method. Features welded structural steel frame, fabricated 1/2"-thick (913mm) abrasion-resistant steel drum, removable shelf bolted to drum and balanced drum assembly for easy rotation by hand. Enclosed chain drive rotates drum without conventional slip clutch. Positive drive delivers greater accuracy. Self-contained worm-drive motorized speed reducer has anti-friction bearings and sealed lubrication. Motor is 1HP (746W), equipped with magnetic push-button control and automatic overload cutout. Includes revolution counter, material catch pan and 1 abrasion charge consisting of 12 hardened-steel balls. Dimen.: 39" x 29" x 37" (991 x 737 x 940mm). Complies with ASTM C131, C535; AASHTO T96.